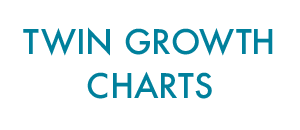 Twins Trust Twin Growth Charts were developed to help improve the antenatal care for twin pregnancies.  Researchers have created customised twin charts using almost 10,000 ultrasound examinations from more than 2,000 UK twin pregnancies.
Traditionally twin growth was assessed using singleton growth charts, in doing so there is the potential for "over-diagnosis" of growth problems. In addition, incorrectly diagnosing twins as "too small" causes anxiety for the parents and can also result in babies being delivered too early. Conversely, problematic growth may be missed. The benefits of the twin specific growth charts would be to reduce the number of babies needing neonatal care after birth and associated risks of prematurity.
Although twins and singletons in the second trimester seem to have similar growth patterns, in the third trimester growth velocity in twins is consistently found to be less than in singletons, with the differences most pronounced and noted earlier in monochorionic pregnancies (Gielen 2008; Stirrup 2015; Shivkumar 2015). The key question for clinicians to identify is does the difference in observed growth represent adaptation or true restriction?  The data contained within the portal aims to help clinicians identify those twins who truly are at risk.